Watercolours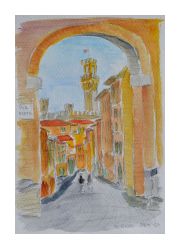 Prerequisite for painting water colours is, that you have the absolute best materials. It is both concerning the colours as well as the quite thick and special water colour paper, where quality is very important.

Then start with sketches primary using a pencil or pens for indian ink. It is wounderfull to be in a town or in the nature with an exiting view trying to catch the impressions in water colour sketches.

Several of my own sketches have later been used as proposals for bigger acrylic paintings. Have newly used pens for indian ink, where the ink can be partly dissolved, when the colours are painted on the paper. Exiting colour nuances and shades will then appear on the paper.
See