Crayons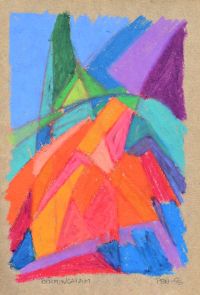 A big box with crayon colours can give you nearly all the colours, you want. The colours can be mixed over each other layer by layer. Using this medium it is very important, that you have colours with the best quality and special thick and nopret cardboards. Different colours of this cardboard are available.

Most of the following compositions are worked out in A4-formate ( i.e. 15 x 25 cm ) on different travels in Denmark and abroad. A picture begins with few thin lines and sketches and then a composition will appear, where several colours can be mixed as mentioned. Several of this compositions have been used as inspiration for bigger acrylic pictures.

If click on each of the following pictures, then bigger formate will appear.
See