Art in Churches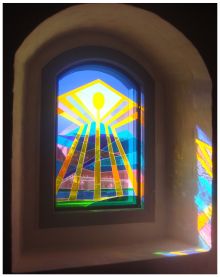 To visite a church either during services, concerts or just as a corious guest is very fascinating and has always been of big interest for me. In nearly all churchrooms in Denmark as well as in other countries, you might find exiting decorations, ornamentations or other art works.
The oldest churches in Denmark were build in the eleven and twelve centuries, and still several of these beatifull churches are placed in the landshapes all over the country.
But several newer churches have also been build during the last two centuries. Big work and money has been used for restorations both in relation to building construction and in relation to best possible art.
During the last twenty years glass mosaics has been mounted in about 150 danish churches, and now glass mosaics are also mounted in several official buildings.
The technique using "antic" glass, i.e. mouth-blown glass, began before the Birth of Christ and is described in relation to the mosaic in Vile Church.
The photo shows the glass mosaic hunged up in 2009 in Glyngøre Church.
See